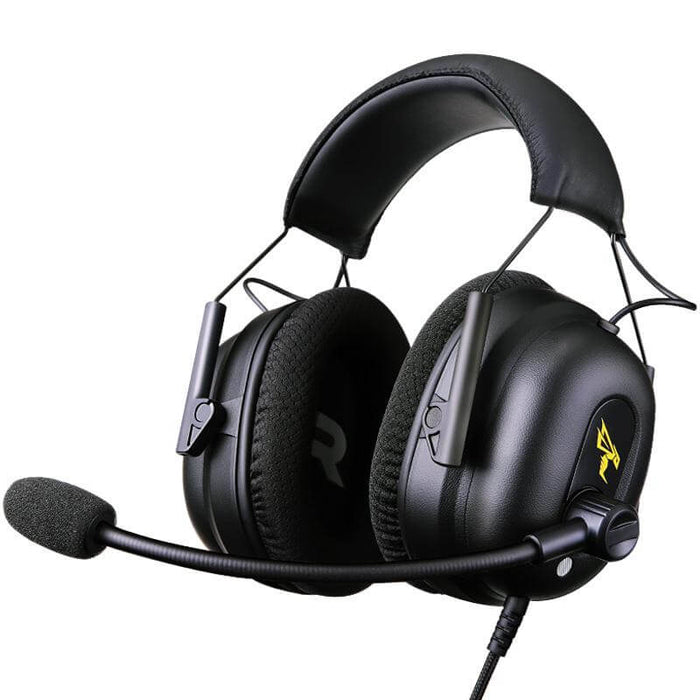 Commander G Series - 7.1 Surround Sound Gaming Headset for PC, PS5, PS4, Xbox & More
Save

32

%
Save

32

%
Original price
$159.99
-
Original price
$159.99
Free Tracked Shipping
Easy 30 Day Returns
✔️ 5,493 units of this product sold by Shopsta
✔️ Usually dispatches within 24 hours
✔️ Free trackable delivery on this item
Introducing the Commander G Series
Get advanced sound precision for next-gen gaming capabilities. The Commanders provide absolutely everything you need in a gaming headset. Featuring 7.1 surround sound audio with pinpoint accuracy in-game, comfortable ear mesh padding for long play and powerful 50mm speakers for immense sound. The Commander G Series is the perfect headset for any serious gamer.
Pinpoint Sound Accuracy
It's what you need in a good gaming headset: clear tracable sound accuracy and with the Commander G Series you get it.
The 7.1 surround sound capabilities combined with a 50mm speaker gives you the ability to hear enemy footsteps from further away and with far more precision. This gives you an almost unfair advantage when playing against other players that aren't using a headset like the G Series.
Noise Cancelling Adjustable Microphone
The Commander G & GS Series provides a clear line of communication for you and your team during battle. Featuring two independant microphones, an extra microphone is located on the outside left earcup which listens in and cancels any background noise in the room. With these two microphones working together, crystal clear commication with your teammates is achieved.
Also featuring a fully rotational flexible arm, the G Series allows you to find the perfect position for the microphone to pick up speech without picking up any heavy breathing. The arm has been uniquely reinforced to stay in the exact position you leave it in once positioned. When not needed, the microphone arm can also be raised vertically away and out of your field of view.
Breathable Ear Padding Designed For Comfort
When you're gaming for long periods of time, comfort becomes essential. The G Series comes with a breathable ear mesh padding allowing heat to escape to help keep you cool during long intensive play.
G Series Custom 7.1 Virtual Surround Sound Built-in
A left and right stereo speaker just doesn't cut it when it comes to gaining a competitive edge as you have no idea where sounds are truly coming from. That's where the G Series custom 7.1 virtual surround sound chip comes in. This special chip gives you the ability to pinpoint exactly where sound is coming from and react to it instantly. As well as knowing the true direction in which sound is coming from, you will be able to know the exact distance the sound is coming from as well due to the proportional volume of the sound.
For example, in a game of Call of Duty you are able to tell exactly where an enemy's footsteps are coming from. Let's say you hear an enemy coming up from behind you. As you are now aware of their presence, these crucial extra microseconds enable you to turn around before they reach you and get the win by aiming down the sights and shooting first. This method of listening in can also result in many extra wins in combat through the use of a technique called 'pre-firing', a method in which you fire a weapon before an enemy makes it around a corner.
The Commander G Series solves all your sound requirements to truly help you win in battle giving you that almost unfair competitive edge.
Audio + Microphone Control Unit & Sound Card Included

Included with the Commander G Series is a 7.1 sound card unit which controls the audio input and output from your headset. This gives you the ability to increase or decrease the volume of the headset, increase or decrease the sound of your microphone and also toggle your microphone off and on with a simple switch.
Strong Compatibility
The G Series is compatible with PS5, PS4, PC, Xbox Series X and S, Xbox One, Xbox One X and S, Nintendo Switch, Laptops, iPhone and more.
Further Features:
Free drive virtual 7.1 surround sound effect design, brings you real experience on the scene to distiguish direction through sound.
With its 50mm speaker unit for more amazing sound, its bigger speaker unit produces high, medium and low frequency clearly.
3.5mm native interface and with an independent USB 7.1 channel sound card, widely compatible with multiple devices, for PS5, PS4, Xbox Series X/S, Xbox One, Phones, Tablets and more.
Three professional sound modes which can be switched depending on whether you are gaming, watching tv or listening to music.
Huge 11 hour battery for wireless model with 1000mAh battery built-in.
Technical Specifications:
Connection: 3.5mm + USB Wired Mic
Dimensions: Ф9.7*4.5mm
Sensitivity: -40dB ± 2dB(at1KHz)
SKU: G936N
Directivity: Omnidirectional
Mic Impedance: ≤2.2 K Ohm
Driver diameter: Ø50mm
Sensitivity (S.P.L): 90dB ±3dB(at1KHz)
Parent Brand: SOMiC
Sub Brand: Commander
Series: G Series
Speaker Impedance: 32 Ohm ± 15%
Frequency Response: 12Hz-22KHz
Rated Power: 15mW
Max Power: 30mW
Cord Length: 1.2m + 2.1m = 3.3m in total length
Package Includes:
1x Commander G Series Headset (Surround Sound Gaming Headset with Microphone)
1x 3.5mm cable + 1x USB 7.1 Channel Sound Card
1x Retail Box with Protective Internal Packaging
Works With Additional Devices
Although the G Series is primarily gaming headsets, they also work as a great pair of headphones as well and are compatible with any device that supports a 3.5mm headphone jack such as laptops, phones, tablets and more.
Product Images:


What Are You Waiting For?
Buy the Commander G Series or GS Series today and take your gaming to the next level. Whether you're an avid gamer or looking for the right gift for someone who is, the Commander is an exceptional buy at a great price.