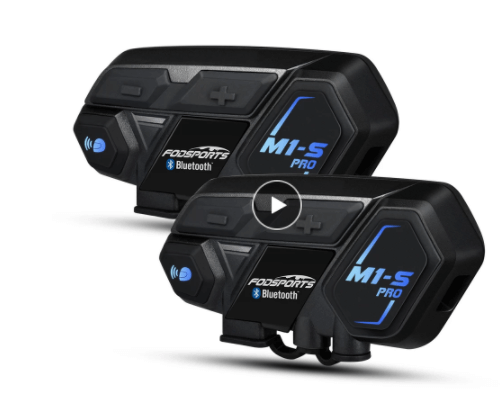 Fodsports M1-S Pro Motorcycle Helmet Intercom bluetooth Helmet Headsets 8 Rider 2000M Group Interphone (Black)
Original price
$189.99
-
Original price
$189.99
Free Tracked Shipping
Easy 30 Day Returns
M1S Pro is equipped with bluetooth 4.1 version, It has high compatibility and stability. If there are no obstacles such as buildings in a straight line, the motorcycle helmet intercom maximum communication distance of the group is about 2000 meters, the maximum effective communication distance between two motorcycles is about 500 meters, both can speak with clear sound quality.
Support 8 Riders Group Intercom
Full duplex call for group motorcycle headsets system, Support for multiple people simultaneous call. With M1-S headsets, you can ensure hands-free security and convenience, listen to music, retrieve GPS routes, and receive voice commands wirelessly via bluetooth, let you enjoy racing fun.
Crystal-Clear Sound Quality & Handsfree
This helmet headset intercom uses high sound quality full-range membrane monomer. The M1-S Pro has high definition sound quality, especially for the bass has a high reproducibility. M1-S Pro has handsfree function, the factory setting defaults to manual answering, Switch manual/automatic answering calls: While in standby, press and hold the intercom button and volume "+ ""- "button at the same time for 3 seconds, you can set it to your liking.
Noise Reduction & Waterproof
Since the microphone of motorcycle bluetooth headset chip, ambient noise such as wind noise and engine noise are not annoying. The voice quality is not affected even at high speeds. Moreover, it is waterproof and dustproof, can be used in any weather conditions.
Long Standby Battery & Two Options For Microphone
The motorcycle helmet communication with 900mAh rechargeable battery, Standby Up to One Week, working time up to 20 hours. M1-S Pro bluetooth motorcycle headset has hard mic and soft mic, Suitable for all kinds of helmets. You can choose the hard mic for open face helmet, and soft mic for full face helmet.
The product is for group intercom, motorcyclists can talk with another within the group, the intercom distance can reach 2000 meters(8 riders), up to 120km/h working speed.
With DSP cancellation and noise suppression technology, crystal clear voice quality is guaranteed in a high speed.
Support 8 peoples talk at the same time.
High fidelity, bass, HIFI sound quality
Conduct calls on their mobile phone, such as:
Receive a cell phone call automatically, auto answering;
Call out, call answer, call reject, call hang up;
Last number redial & voice dialing;
Voice prompt and play music;
It can connect two phones at the same time.
Enjoy the music through bluetooth enable cell phone/MP3/GPS. (A2DP Stereo Music)
bluetooth 4.1,chips
Two earphones are suitable for all the helmet,such as open face and full face helmet
Outstanding Design: such as concave-convex interface suitable for blind operation
900mAh battery,long work time.
1 * M1-S Pro  
1 * Speaker and hard microphone  
1 * Soft microphone 
1 * 2.5mm to 3.5mm cable  
1 * metal clip  
1 *  EVA rubber 
1 * USB charging line 
1 * User Manual&Install Guide