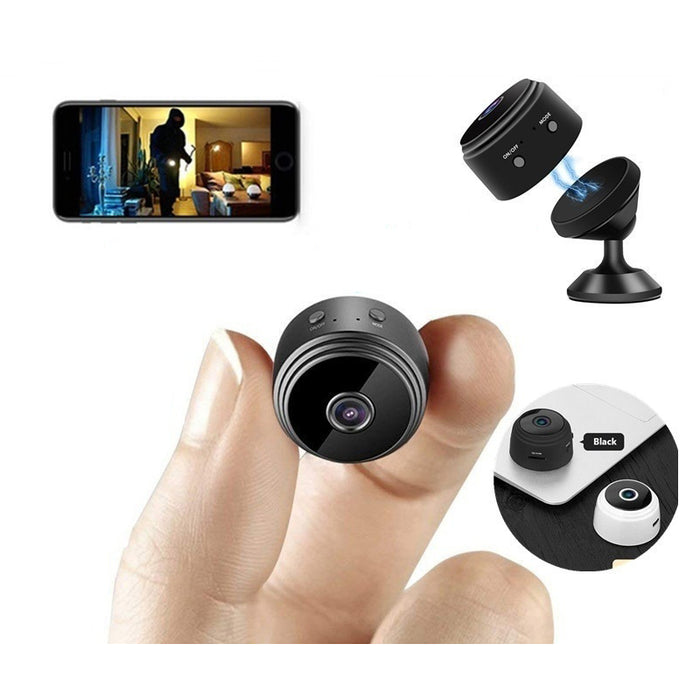 Full 1080P HD Wireless Mini Security Camera
Original price
$29.99
-
Original price
$159.99
Free Tracked Shipping
Easy 30 Day Returns
Introducing the top rated Mini Security Camera of 2022 and one of Shopsta's best selling products.
Full 1080p HD Camera:
Get full 1080p HD resolution at 25 frames per second.

150° wide-angle with professional grade lens.
The live video can be viewed via iOS / Android Smartphone, Tablet, Mac or Windows PC.
Perfect for house, office or family as a house-keeper or nanny cam.
IR Night Vision:
With 6 infrared LEDs (not visible to the human eye), the camera presents clear video in low light conditions. Typical night visual range is up to 16 feet.

Movement Detection With Alert:
This WiFi camera will immediately send a reminder notification to your mobile phone when the IP camera detects movement. You can also record at a certain time or movement activated record. Real-time guard for your home security.
Rechargeable & Portable:
With its small size and built-in battery. The camera can be with you wherever you go and will keep recording while charging. the magnetic bracket is attached to any metal surface, or the camera can be mounted anywhere using the included magnetic tabs and adhesive pads.

Hot Spot Design:
Equipped with hotspot functionality, this camera can be connected in a short distance without a network. 10m for indoors and 30-50m for outdoors.

Easy to Connect:
Just follow the manuals to connect the camera to it's own network, then you can view real-time video remotely. You can also connect camera hotspot to achieve record outside.


Specifications:
Video format: AVI
Number of frames per second: 25
Angle of view: 150 degrees
IPmum illumination: 1 lux
Continuous recording time: 1 Hour
Power consumption: 240ma / 3.7 v
Memory card type: Micro SD
Playback software: VLC Player / SM Player
Computer Operating System: Windows / Mac OS X
Mobile Operating System: Android / iOS
Web browser: Chrome, Firefox, Safari, etc.

Please note that 64GB and 128GB Micro SD cards will need to be formatted on a computer prior to use. 32GB cards are already pre-formatted.
Features:

1. Wide angle 150° angle lens.
2. Night vision supported with built-in infrared.
3. HD 1080p real-time viewing and recording.
4. Ultra-small and extremely hard to detect, easy to hide under the table, under the wall, on a shelf, etc...
5. USB rechargeable, built-in rechargeable large capacity battery, and takes about 1-2 hours of charging for a full battery.
6. Support multi-platform (Android, iOS, Windows, Mac OS) and multi-user (mobile and computer).

Easy to use:

Ways to connect to your camera:

Option 1. Setup a Wireless wifi connection (via router) for remote viewing, no matter where you are.
Option 2. The built-in Wifi hotspot of the camera directly connects the mobile phone to the built-in Wifi hotspot of the camera. Even if the mobile phone has no network, it can be remotely controlled.

Recording Modes:

1. 24-hour recording: always recording (default)
2. Movement detection: record when movement is detected
3. Timer: set a specified time period to record

Package Includes:

1 x Full 1080P HD Wireless Hidden Mini Security Camera
1 x Long Charging Cable
1 x Short Rigid Charging Cable (Easily allows positioning whilst connected to power bank)
1 x Bracket With Magnetic Plate
1 x English User Manual

Product Images:









Bundle & Save:
Choose from one of our specialist bundles to get the best results from our cameras:
1x Mini Camera with either No SD Card / 32GB SD / 64GB SD / 128GB SD
2x Mini Cameras with either No SD Card / 32GB SD / 64GB SD / 128GB SD
3x Mini Cameras with either No SD Card / 32GB SD / 64GB SD / 128GB SD
What are you waiting for? Order the Full 1080P Wireless Mini Cameras today with great savings on additional cameras.